Kymen Vesi
---
Kymen Vesi Oy is responsible for water supply management and water treatment and disposal, servicing Kotka, south Kouvola and Pyhtää. It was originally founded in 1914 as Kotkan Vesi. It merged with the regional water suppliers in both Pyhtää and Anjalankoski to become Kymen Vesi on 1 January 2007. All the municipalities retained some percentage of ownership in the newly established company (Kotka 79%, Kouvola 18% and Pyhtää 3%).
The company vision is taking responsibility for the sustainability, growth and development for the water environment. It is supported by three business objectives:
Trusted company, safe water, water efficient regions.

---
Information and texting service regarding disruptions
Kymen Vesi informs the residents about disturbances via text messages, with additional information available on the website and the map highlighting any announcements, in Finnish. To receive the text mobile number must be registered to the home address and not be private. You may add or update your contact details or unsubscribe from text messages. Click on the link below.
We retrieve phone numbers from the Bisnode Finland Ltd database on an individual disturbance basis. Please note we do not store any phone numbers that we have not been given permission to.

Update your number if: your phone is registered at your workplace or any other address than the property you permanently stay at or if your phone number is private. You may unsubscribe from the service at anytime.
Service is available only in Finnish.
Further information
info(a)kymenvesi.fi
---
Change in ownership of Water Services
​​​When the property's owner changes, the following information is required:
The meter reading from the date of the change
Previous owner's new address where we can send the final bill
New owner's contact details
Number of people in the household (for the purpose of estimated bills)
We will send the new owner a connection agreement to sign.
You can contact us also via email or phone:
laskutus(a)kymenvesi.fi or 05 234 8111.
---
Billing
We will send an estimated bill every two months. After you have informed us of the actual meter reading, your next bill will include any credit owed.
It is your responsibility to notify us of your actual meter reading, every two months, if you would prefer to receive bills for actual consumption. Please contact customer services for additional details.

Customer service and telephone service hours:
Monday to Friday from 9:00 a.m. to 2:00 p.m.
Telephone: 05 234 8111
You can also contact us via email laskutus(a)kymenvesi.fi or use the contact form.
Use charge
| | | |
| --- | --- | --- |
| Prices € / m3 | vat 0% | vat 24% |
| Household water | 1,49 | 1,85 |
| Waste water | 2,06 | 2,55 |

Base cost € / month (vat 24%)
| Category | Meter size | Household water | Waste water | Storm water |
| --- | --- | --- | --- | --- |
| | | | | |
| 1 | 15-20 mm | 8,41 | 8,21 | 5,66 |
| 2 | 25-32 mm | 50,46 | 49,25 | 34,03 |
| 3 | 40-65 mm | 185,59 | 181,23 | 125,14 |
| 4 | 80-150 mm | 259,97 | 253,84 | 175,29 |
| 5 | 80-100 mm* | 344,06 | 335,96 | 231,99 |
*Compound water meter
Kymen Vesi offers a new eco-friendly way to receive and pay invoices with Kivra
No more paper invoices! We at Kymen Vesi want to offer you an easy, safe and climate-positive way of taking care of business with us. With Kivra digital mailbox service, you can receive, pay and archive your invoices electronically. Switching from paper invoices to electronic invoices helps reduce emissions from paper, printing and transport.
To start using Kivra:
1. Download the free Kivra app to your phone or go to kivra.fi
2. Sign up with your online banking codes or mobile certificate
3. You're good to go! You will receive your next invoice electronically in Kivra
---
Privacy policy
You can find our privacy policy behind this link (PDF 129 kb)
---
Water purification process (Kymenlaakson Vesi Oy)
In 2018, daily water production at the Kuivala water treatment plant was approximately 20,000 m3. The water treatment process is described in the diagram below.
As per the definition, the five main processes involved in water purification are:
pumped in from the lake
pre-treatment
infiltration
fluoride removal
post treatment
The goal is to remove undesirable chemicals, contaminants and gases to produce water to produce fit for specific purposes.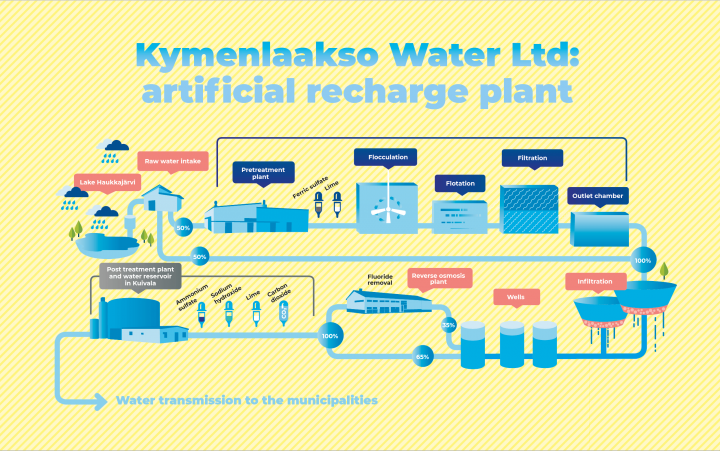 ---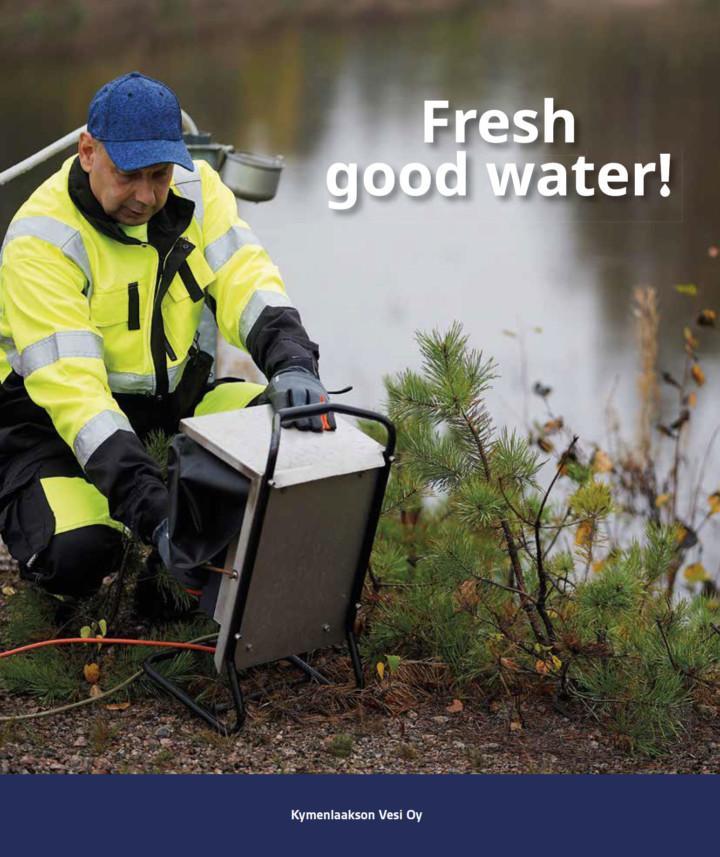 ---